Welcome to the Magic Cooker Lid!
The Magic Cooker Lid can help you master risotto in a matter of minutes, give steak a juicy barbecue-style finish, and even make the perfect pizza, complete with moist topping and crispy base!

The Magic Cooker Lid is like having an oven on your cook top. With the Magic Cooker Lid, you can steam, boil, roast, toast, bake, deep fry, or grill – and generally in faster time, with less mess.

The magic behind the lid lies in its clever, simple design. Created by an Italian scientist, the Magic Cooker Lid, simulates a pressure cooker environment. By creating a 'seal' over your pots and pans, the Magic Cooker Lid keeps temperatures constant, meaning you can cook at a lower heat, and with some dishes, even cook faster, retaining flavours and juices!
But unlike a pressure cooker, you can easily and safely remove the lid while cooking to stir your dish, turn your steak or add seasoning. Click here to watch a demonstration.

It is simple to assemble, and dismantle, quick to clean and will help make cooking a more enjoyable task.

Made from 18/10 stainless steel, the Magic Cooker Lid is sold with a 25-year warranty.

The lid is suitable for cook top use only. Do not use in your oven.

What is the Magic Cooker?
The Magic Cooker Lid divides the steam vapour from the liquid in the food you're cooking. The steam rises, and the liquid falls to the bottom of your pot. The design of the lid means that the vapour drops back down into the pot, ensuring it cooks on both sides, and reduces cooking time.
How does it work?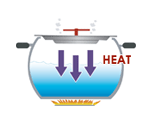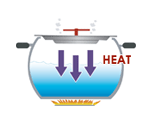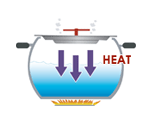 Vapours travel upwards from heat source then starting process two
The pressure / steam cooks from above and this convection is directed down on to the food.
Due to higher pressures achieved within the vessel, food is cooked in half the time.